Some people have asked about the music beds we use for ads and stuff. I plan to post all of the original audio here for people who might want it (but why would you? It's AWFUL!)
For now, here is the new music bed for next week's recording session; we'll use it for AMAZON, Gamefly, and Tweaked Audio (offer code: FLUID). Feel free to make a ringtone out of it if you're so inclined. And lay off my jazz improv skillz…I STINK and I'm well aware of it, thank you very much.
I plan on uploading a complilation of all of Trevor W's works, as well as some other goodies. These will be here only, not on the Riotcast or iTunes websites.
I used to use a Korg M1R for recording, but I now use GarageBand or LogicProX for everything. Matter of fact, I sold my synthesizers and processing units; they're redundant in this day and age, at least for the crappy work that I do.
PS: Please check out our sponsors below.
The Amazon link just helps keep Riotcast and Weird Medicine going. Since you're going to buy stuff from Amazon anyway, please use this link! Click on it, bookmark it, and use it whenever you buy something from Amazon. This one easy step helps your old pals keep their dumb show on the air.
If you join Gamefly, they'll give you an extra free trial. Gamefly now has unlimited PC downloads for some games (this is FANTASTIC). Seriously, it's like NETFLIX FOR GAMES.
And don't forget:
AND!
We have a new sponsor: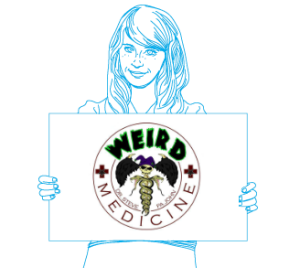 TING!   A wireless provider totally devoid of malarkey.  CHECK THEM OUT!
Also, check out HULU PLUS, the greatest streaming archive of TV that the world has ever seen!

yr obt svt,
Steve