I never really thought I was smart enough to practice medicine, but the longer I am involved in the business, I realize sometimes you don't have to be smart, but just care. I know that sounds sappy and makes me sound like a mushy lovey-dovey type, but I only care about the ones that deserve it…the other ones, as O&A say, can just "go screw."
My first job in medicine was working in a Physical Therapy office as an aide while attending George Mason University. It was there that I learned I enjoyed working with people, so I looked into the medical profession as a career choice. I found the PA (Physician Assistant) profession to be interesting so I looked into it. The life style and many options after graduation looked good, so I gave it a shot, and here I am.
Although I have been involved in medicine for almost 12 years now, I have been practicing medicine as a PA for 6 years. My first PA job was physicals on airline employees for the government after 9/11. So in a round-about way I worked for Homeland Security, which makes for good conversation. I then spent 3 ½ years in a small town ER learning a lot more than just medicine. It was there I met Dr. Steve, thankfully not as a patient though. I have most recently worked in an orthopaedic trauma setting which has had its share of interesting stories. I am now headed to general orthopaedics.
Enough with medicine already! I have been married to my beautiful wife Jill for almost 5 years. She is about to become my boss at work so I should say lots of nice things about her…uhm…HA. She is great, and especially for putting up with me. We have recently taken up the hobby of wakeboarding and I hope the new job will allow for more free time to do so.
There are tons of stories that I share with friends and may be able to share on the air one day, but I need to make sure I can afford the consequences,  i.e.,  have enough money to be able to move away to solitude, if these stories ever come out.
Hugs and squeezes,
PA John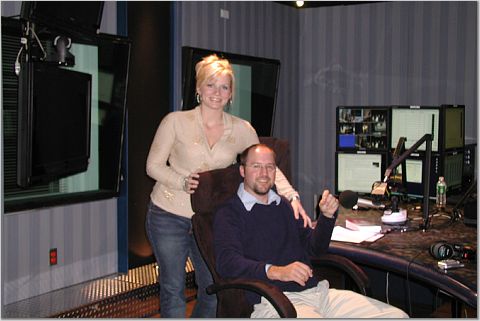 PA John with his wife, PA Jill, relaxing in the XM 202 Studio