To the panicky-Petes out there…Mr Thomas Eric Duncan was SYMPTOMATIC and in the community for approximately 4 days after he was sent home from the Emergency Room the first time with fever and gastroenteritis (and given antibiotics, which is another subject altogether).   Despite this, only Nurses Nina Pham and Amber Vinson are known to have contracted the illness from him.   The 3 week deadline from his ultimate isolation on Sept 28 is over.  There has been no great outbreak of Ebola in Dallas, and one is not expected in NYC from Dr Craig Allen Spencer's "Big Day Out" as he was not symptomatic at any time and isolated himself within hours of becoming febrile.
I don't agree with Quarantine, at least not the way it is being done to Kaci Hickox…but the lack of self-isolation by people like Nancy Snyderman and Dr Spencer create significant issues with contact tracing and increase societal anxiety.   We should not relieve people of their personal liberties just because people don't understand the science behind Ebola transmission, but on the other hand we must do what we can as medical professionals to allay these fears.   If Dr Spencer had self-isolated and then became symptomatic, I'm quite convinced none of this mandatory quarantine business would have happened…until the next case, of course.
The CDC  has specific recommendations for asymptomatic people who have come into contact with Ebola virus:
Conditional release and controlled movement until 21 days after last known potential exposure

By "conditional release" they mean "people are monitored by a public health authority for 21 days after the last known potential Ebola virus exposure to ensure that immediate actions are taken if they develop symptoms consistent with EVD during this period. People conditionally released should self-monitor for fever twice daily and notify the public health authority if they develop fever or other symptoms."

Controlled Movement "requires people to notify the public health authority about their intended travel for 21 days after their last known potential Ebola virus exposure. These individuals should not travel by commercial conveyances (e.g. airplane, ship, long-distance bus, or train). Local use of public transportation (e.g. taxi, bus) by asymptomatic individuals should be discussed with the public health authority. If travel is approved, the exposed person must have timely access to appropriate medical care if symptoms develop during travel. Approved long-distance travel should be by chartered flight or private vehicle; if local public transportation is used, the individual must be able to exit quickly."
So the CDC so far does not recommend quarantine, even if a person has:
Direct skin contact with, or exposure to blood or body fluids of, an EVD patient without appropriate personal protective equipment (PPE)
AND is asymptomatic
If governments are going to quarantine people who return from close contact with the Ebola virus despite the CDC's recommendations, and despite what we know about Ebola transmission, how about an ankle bracelet and home monitoring?   At least then they could binge-watch "Breaking Bad" or "Sons of Anarchy" (or "The Strain"!  Horrors!)  And if we're going to mandate a 21 day quarantine, compensation for lost time at work needs to be part of the equation.  The government has the right to require quarantine;  it doesn't appear to be necessary to prevent the spread of disease, but some politicians feel it's necessary to prevent the spread of panic. If they're going to do this, it should be done as humanely and as comfortably as possible.  These health care workers are heroes and need to be treated as such.
Some have proposed quarantine before people LEAVE the area;  this would certainly work, but it needs it be in at least 4 star surroundings, with access to food, electricity, clean water, and communications.  We need health care providers to travel to Ebola-stricken areas to stop this at the source;  giving them a well-earned 3 week vacation at the end of their tour sounds better than "quarantine", doesn't it?
More on this story as it evolves.  See the CNN article below. 
yr obt svt,
Dr Steve
============================================
CNN — Nina Pham was the first person to catch Ebola on U.S. soil, and now, 13 days after testing positive, she has been declared free of the deadly disease.
Her first order of business will be to hug her dog, Bentley, she said Friday.
She invoked God and science in expressing gratitude for her ongoing recovery from a disease that has no established cure.
"I feel fortunate and blessed to be standing here today," she said. "Throughout this ordeal, I have put my faith in God and my medical team."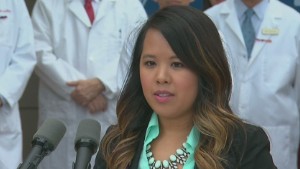 Nurse cured of Ebola: I'm so fortunate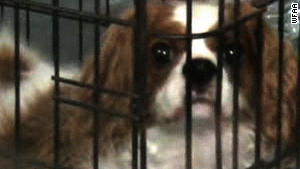 Where is the Ebola dog Bentley?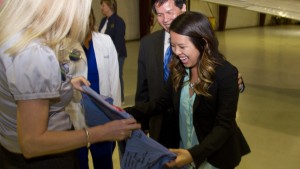 After being greeted by her father, Peter, Nina Pham is presented with scrubs signed with well wishes by her colleagues at Texas Health Presbyterian Hospital Dallas.
Later Friday, President Barack Obama met Pham in the Oval Office and gave her a big hug.
Prayer sustained her, and she thanked people around the world who prayed for her, Pham told reporters Friday at a National Institutes of Health hospital in Bethesda, Maryland.
The nation saw a cheerful and composed Pham, dressed in a bright turquoise top and matching necklace, when she strode to a bank of microphones moments after Dr. Anthony Fauci, director of the National Institute of Allergy and Infectious Diseases, said she was free of the virus.
She thanked Dr. Kent Brantly, the American physician who also survived Ebola, for donating his plasma to her while she was sick.
But she's not entirely out of the woods, she said.
"Although I no longer have Ebola, I know that it may be awhile before I have my strength back," Pham said. "So with gratitude and respect for everyone's concern, I ask for my privacy and for my family's privacy to be respected as I return to Texas and try to get back to a normal life and reunite with my dog, Bentley."
Bentley, a Cavalier King Charles spaniel, remains in quarantine until the end of the month in Texas, but Pham "will be able to visit, hold and play with him tomorrow," Dallas County Judge Clay Jenkins said Friday.
"I know that will be good for both of them," said Jenkins, who oversees the Ebola response in Dallas.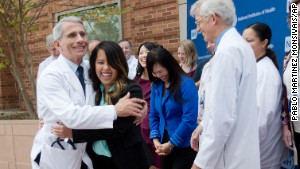 Dr. Anthony Fauci, director of the National Institute of Allergy and Infectious Diseases, hugs Nina Pham outside the National Institutes of Health in Bethesda, Maryland.
A 'stressful and challenging' time
Pham, 26, who grew up in a Vietnamese family in Fort Worth, Texas, graduated with a nursing degree in 2010 and just months ago received a certification in critical care nursing, which deals with life-threatening problems.
The Ebola experience, she said, was a "very stressful and challenging" time for her.
Without direct reference to the continent, she alluded to how Ebola has ravaged West Africa in an unprecedented outbreak that the World Health Organization says has caused almost 10,000 confirmed or probable cases of infection and 4,877 deaths as of this week.
"I am on my way back to recovery even as I reflect on how many others have not been so fortunate," she said.
White House press secretary Josh Earnest called Pham's case "a pretty apt reminder that we do have the best medical infrastructure in the world."
"The track record of treating Ebola patients in this country is very strong, particularly for those who are quickly diagnosed," Earnest said. "The fact that she has been treated and released I think is terrific news."
The first to catch virus on U.S. soil
Pham was among the doctors and nurses in Dallas who treated Thomas Eric Duncan, the first person to be diagnosed with Ebola in the United States. His diagnosis came after he returned from a trip to West Africa, and he died on October 8.
Three days later, Pham tested positive for the Ebola virus, becoming the first person in the United States to contract Ebola on American soil. That sent waves of anxiety through the network of health care workers — and beyond.
Those anxieties deepened on October 15 when a second nurse in Dallas, Amber Vinson, tested positive for Ebola. Vinson had flown from Dallas to Cleveland and back, prompting an airline to warn passengers on both legs of her trip as well as passengers who took subsequent flights on an aircraft she used. Some schools closed. Health departments monitored dozens of people.
None of them has tested positive for Ebola.
Pham said Friday that her thoughts are with Vinson, who is getting treatment for Ebola at Atlanta's Emory University Hospital.
Vinson is steadily regaining her strength, and her spirits are high, her family has said. Doctors can no longer detect the virus in her body, but they have not yet determined when she will be discharged, the hospital in Atlanta said Friday.